Our Experts
​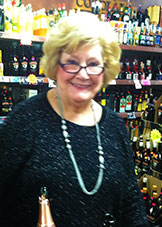 Sheila McNeil
Sheila McNeil, Owner and General Manager, has more than 35 years experience in the wine industry and has learned about wine and spirits from the ground up. She began her career long before wine was the popular part of American culture that it is today. Since opening the doors of Wine & Sprits of Slingerlands in 1997, she has cultivated close ties to the community and is known for her generosity and wide breadth of wine and spirits knowledge. A member of the Chaine des Rotisseurs, the Jack Daniels Single Barrel Society, and the proud recipient of the 2000 Retailer of the Year Award from the New York State Grape & Wine Foundation, Sheila has a well-deserved reputation as an expert in a field once dominated by men. She tastes every wine she sells and is an educator as well as a purveyor of fine wines and spirits. Her favorite cocktail is a classic Martini and her favorite wines are Champagne and Chardonnay. Upon tasting a spine-tingling wine, she has been known to say... it's a beautiful thing!
​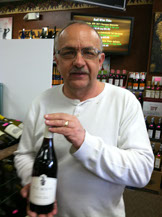 Bill Peters
A wine lover for many years, Bill eventually discovered Wine & Spirits of Slingerlands and became a regular customer, talking to the staff about wine and asking them for recommendations. A longtime regular at the weekend wine tastings, he continued to expand his palate and wine knowledge. Having retired from the Albany County Probation Department as a Supervisor after 31 years, he thought this would be a great place to work and continue to learn about wine. His favorites are those made from the cool climate grapes like Chardonnay and Pinot Noir, as well as Tempranillo from Spain and Southern Rhone wines. A lifelong music lover, you can always hear him singing along with the radio in the store.
​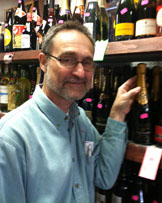 Ted Neumann
Starting out drinking Mateus back in 1970, Ted soon hit the better stuff, to loosely paraphrase Bob Dylan. Essential to his early growth as a wine drinker was a trip to Germany's Mosel and Rhine regions. From there, he took every opportunity to try new and different wines, visiting wineries from California, Oregon and Washington to New Mexico, Virginia, France and New York, where he met Dr. Konstantin Frank and tasted wines with him in his kitchen. As well, he's met Robert Mondavi and Mike Grgich of Grgich Hills Winery and had the luck of being in Napa Valley in 1976 just after the famous Judgment of Paris, allowing him to taste some of the winners. All of this was a hobby until 2003, when he began working in a wine shop and eventually made his way to Wine & Spirits of Slingerlands in 2011. Prior to his career in wine, Ted worked in music distribution for 30 years.
​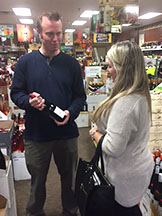 Ian Putnick
Ian Putnick first became familiar with Wine & Spirits of Slingerlands as a customer, regularly attending the weekend wine tastings. After having expanded his palate, Ian joined our team and has been with the store in an official capacity for over five years. Having studied economics in college, Ian enjoys finding great wines that are also great values. Although he is partial to full bodied Old World reds, he also enjoys crisp dry whites when the season or occasion dictates. He takes great pride in finding wines that meet a customer's expectations in all respects, whether it be pairing it with food, as a special gift for a friend or family member, or just matching new arrivals with a customer's palate to expand their horizons.
Brian McNeil
Always ready with a smile, Brian McNeil brings together an ability for making people feel welcome with his love of wine. Having worked in the tech industry for many years, Brian is carrying on the tradition of helping people find their newest favorite wine and is thrilled to be a part of the family business. A devoted fan of Italian Reds and Red Zinfandel, in particular, he is always happy to find a new gem from South America and Napa Valley.